In Memory
Scott Kelly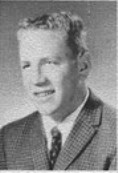 VACAVILLE
- Robert Scott Kelly, age 55, died Thursday October 19, 2000, at his home in Vacaville, CA.
Scott was born Sept 20, 1945 in Price, UT, the first child of V. Robert and Beth Kelly. His family moved to Layton in 1952 where he lived until his graduation from Davis High School and Semi-nary. At age 18 he joined the Navy.
During the Vietnam war he served as a flight mechanic on an aircraft carrier in the Mediterranean. Following his release from the Navy he worked as an aircraft inspector in Ogden and Sacramento, CA.
He is survived by his parents, Layton; two children, Kristen, Ogden, William Robert, Alaska; two brothers, Paul (Vikki), Salt Lake City; Joseph (Judy), Houston, TX; two sisters, Louise (Howard) Cheney, Kaysville; Cheryl Ann (Steven) Eddington, Boulder City, NV; and one granddaughter, Annakai, Ogden.
Anyone who knew Scott liked him. He was a caring, giving man, generous to a fault. He loved to be in the mountains and especially to fish. The friends he leaves behind loved him as he loved them, like family.
Services will be held 11 a.m. Tuesday, Oct 24, 2000 at Lindquist's Layton Mortuary, 1867 No. Fairfield Rd. Friends and family may call Tuesday 9:45-10:45 a.m. at the mortuary. Interment, Lindquist's Memorial Park at Layton.