In Memory
Tim Sandall
Timothy R. Sandall
---
Posted Jan 10, 2019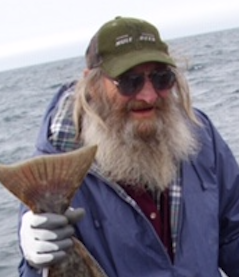 January 30, 1945 – January 7, 2019
Timothy R. Sandall passed away at his home on Jan. 7, 2019, with his family by his side.
Timothy (Tim) R. Sandall was born Jan. 30, 1945, to Arden L. Sandall and Joan Weaver Sandall, in Ogden, Utah. He grew up in Davis County and graduated from Davis High in 1963.
Tim served in the Army from 1965 to 1967, serving in both Korea and Vietnam.
Upon his return, Tim worked as a mechanic. Tim met Shelley Vlaanderen and they married in 1972. They had two daughters, Kami and Mindy. In 1976 while passing through Kemmerer, Tim found a job posting and his family proceeded to move to Kemmerer.
Tim spent many years fishing and hunting the area around Kemmerer with a great affection for Flaming Gorge and fly fishing the Hams Fork. Tim had a great love for fishing, his family, hunting, the Utah Jazz and his cats . . . not necessarily in that order.
Tim is survived by his wife Shelley, Kami and Dorian Dietrich of Kemmerer and their children Mikinley, Connor and Addison; Mindy and Jeremy Schaad of Cheyenne and their children Logan, Owen and Nolan; and his sisters Dawn Ellen Sandall of Clearfield, Utah, and Peggy Sandall of San Antonio, Texas, as well as many extended family members. Tim was preceded in death by his parents, his twin brother Terry, sister Lee Ann and brother Ted. The Sandall family would like to thank his many friends for their kindness and help over the past several years.
Memorial donations may be made to Ronald McDonald House at rmhslc.org or to the Shriners Hospital at shrinershospitalsforchildren.org.
Memorial services will be conducted on Saturday, Jan. 12, 2019, at Ball Family Chapel at 11:00 a.m. Services will conclude at the funeral home.