In Memory
Eileen Simmons (Taylor)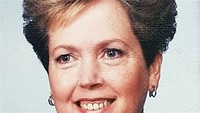 January 27, 1945 ~ July 19, 2017
Our dear wife, mother, and grandmother, Velma Eileen Taylor, returned home to her Heavenly Father on July 19, 2017.
Eileen was born on January 27, 1945, to Ethel Irene Smart and Vivan Theodore "Ted" Simmons, in Ogden, Utah, as the fifth of their six children.
She grew up in Kaysville and Layton and graduated from Davis High School with honors. Eileen married her sweetheart and the love of her life, Mark J. Taylor, on September 18, 1964, in the Salt Lake City LDS Temple. They were the proud parents of two sons, Marc V. and Michael "Mike" J. Taylor.
Eileen loved being in the outdoors with her family and friends, camping, snowmobiling, and traveling. She loved being artistic and creating new things by painting, quilting, sewing, cooking and baking. Eileen's homemade suckers were a staple of the Morgan County Fair for most of the 1980s and early 1990s.
A lifelong active member of the LDS Church, Eileen had an unshakable testimony of the Gospel and loved the opportunities she had to serve others in many callings. Eileen also loved family history and cherished the many years she spent as a volunteer extractor.
Eileen is survived by her husband, "Jay"; and her two sons: Marc (Shelly), and Mike; as well as her six grandchildren: Dylan, Braxton, Sydnee, Rylan, Kylee and Holland.
She is also survived by her brother, Elmer (JoAnn); two sisters: Carolyn Martin and Debra (Gordon) Larsen; sister-in-law, LaFay (Don) Simmons; and numerous nieces and nephews.
Eileen was preceded in death by her parents; her brother, Donald Simmons; and her sister, Marian (Jon) Wanner.
Funeral services will be held on Friday, July 28, 2017, at 11 a.m. at the Milton, LDS Chapel, 1259 N. Morgan Valley Drive, Morgan, Utah. A viewing will be held on Thursday, July 27, 2017, from 6 to 8 p.m. at Walker Mortuary, 45 W. 200 North, Morgan, Utah, and on Friday July 28, from 9:45 to 10:45 a.m. at the Milton LDS Chapel.
Interment, Mountain Green Cemetery.
Condolences may be sent to the family at:
www.walker-mortuary.com