In Memory
Dave Spackman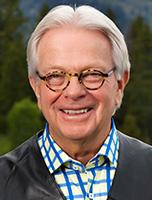 UPDATE
Spackman, 74, lead in real estate, supported philanthropy
May 13, 2020
Longtime Jackson resident, Realtor and developer David C. Spackman died May 3 at the age of 74.
His family provided the following.
David C. Spackman was born on Aug. 14, 1945, and died May 3, 2020, but it is in the time between, in the depth and meaning of his life, that lies the extraordinary beauty of a human heart.
On June 14, 1969, Dave married the love of his life, Susan McClenahan, and so began the wondrous journey they shared. Together they started their new life in Salt Lake City, where Dave went into banking, both commercial and mortgage lending. In 1979 he moved his family to Jackson Hole, at which time he became one of the founders and developers of Teton Pines.
As he later transitioned into real estate, he became an owner and partner in Jackson Hole Realty, which eventually was acquired by Sotheby's International Realty. But it was in the late '90s, when his two sons, Jarad and Brandon, started working with him that a very special partnership was formed — one that brought him so much joy and happiness, one that became the greatest success story of his life.
As his business expanded with the help of his sons, he developed such a love and gratitude for the people and the community of Jackson Hole. Along with helping those in need and donating to numerous nonprofits, he gave of his time and served on a number of boards, including the Curran-Seeley Foundation, the Jackson Hole Land Trust, the Grand Teton Music Festival and Teton Community Mental Health. He appreciated being a part of it all.
But in the spring of 2013, when he lost his son Jarad, the profound outpouring of love and support from the community was unlike anything he had ever known. It affected him deeply, and the word "appreciation" took on even a stronger meaning, an appreciation that he would endlessly feel.
Later on in his career he became a mentor for many and relished this role as the "gray-haired mentor" with so many years behind him. His continual advice was to always put people before business, for it is the relationships that make a business; to treat everyone you meet with respect; and to be sincere and honest in all that you do. Because of those exemplary traits that he followed throughout his business career that he was given the Lifetime Achievement Award by the Board of Realtors and became only the third person to be honored in the history of the board.
If we were to judge Dave from his labors alone, we would see a serenely patient, kind and genteel man, a man of courage and inner strength, a man whose integrity and empathy for others shined so brightly, someone who always took the high road, never the low.
It is hard to say goodbye to this wonderful man, to the good times and laughter that was shared, to the love he gave to all he knew, only to gaze, now, in so much gratitude, holding him, in the highest regard.
When we are gone we become stories in the minds of those we have touched, a loving vision into the past, and in our hearts we come to realize that there are some things that shall always be.
Dave is survived by his wife, Susan; his son Brandon, along with Brandon's wife, Cameron, and their son, River J.; his daughter-in-law Stephanie; sisters Jeannine Mackay and Diana Hill, and her husband, Dave; brothers- and sisters-in-law Sam and Mary Ann McClenahan and Randy and Linda McClenahan; and many beautiful nieces and nephews.
With our deepest gratitude for your kindness, in lieu of flowers please donate in Dave's honor to the Community Foundation of Jackson Hole or St. John's Health Foundation.
A celebration of Dave's life will be announced at a later date.